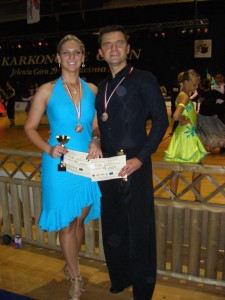 The weekend of 29th & 30h September saw a group of DSGB competitors take their dance shoes to Poland, where in a picturesque setting of Jelenia Gora (former Hirschberg) a traditional Karkonosze Open DanceSport Championship takes place every year.
A London duo Marcin Lik & Kamila Mitkievitcz was particularly successful, coming 3rd in "E" Class in both Standard & Latin-American styles.
Marcin & Kamila are pictured here with their Bronze Medals' haul.