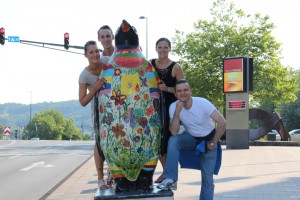 Four DSGB couples arrived at a quiet city in Germany last month, danced their way through 17 events, and returned home proudly with five finalist places between them.
The annual danceComp event took place over three days on 5th – 7th July in Wuppertal. Competitions entered by DSGB dancers included the WDSF World Open Standard, WDSF World Open Latin, WDSF Rising Star Ballroom, and numerous class events ranging from D class through to B and A class.
"This was the third time we danced in an international competition", said Alex Borisov, a DSGB member, "and because of our involvement, the event was upgraded from a national class competition to an international event".
His partner, Anastasia Fokina, added: "We spoke to a few local couples in the dressing room, and they said it was really great to compete against new couples outside of Germany. They were surprised by how committed British dancers are to travel all the way to other countries to represent GB. It brings a refreshing sense of excitement to the floor and it was clear that everyone stepped up their game to compete for the top spot on the podium."
Alex Borisov and Anatasia Fokina took fifth place in the D class Adult event in Standard. They also danced in D class Adult Latin.
With them was another couple, Marcin Lik and Kamila Mitkiewicz, also representing England and dancing D class Adult II in both styles. They took second place in D class Adult II Standard.
"It was really great to see that the German DanceSport Federation has so many registered couples that they were able to split the age groups. This means dancers between the age of 28 and 35 were able to compete in their own category called Adult II," said Kamila Mitkiewicz. "It gave us a better fighting chance to compete with people similar to our ability and experience."
"Between our rounds, we were watching some of the top ranking couples compete in the WDSF World Open events" said Marcin Lik. "As an entry level dancer, it was very inspiring to learn from experienced dancers performing live in front of you. It helped us understand some of the techniques we learnt in our training workshops."
Dancing at the WDSF World Open Standard and Latin events were George Borisov and Ada Au, representing Hong Kong, and Nick Williams and Charmaine Chan, representing England.
For photos and results, visit the danceComp.de and their Facebook group.
Contact us for more details on how you can compete for Great Britain in international WDSF events.