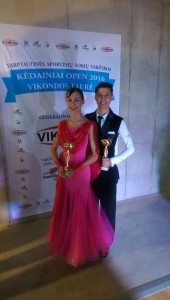 Last month we made our triumphant return to the international dance competition held at Kedainiai, Lithuania. This time round, we felt like locals walking on the streets. We knew our surrounding areas and were able to easily make our way around the city. But the competition itself was a completely different experience compared to last year.
On the first day of the competition, we woke up to a pleasant surprise: SNOW! It was weird to walk out onto the streets in the freezing cold, snowy weather and still looked well tanned in our make up!
Arriving at the venue, we danced two different events in the Latin American section: Youth and Adult C and D class. Happily, my partner and I made it through to the second round in one of them. It felt amazing, and aside from months of hard work and practice, I think my new dress gave me a confidence boost too!
Second day was a little bit more stressful. This was partly because we were under pressure to perform well in the Standard (Ballroom) section, but also because we danced the European programme, against couples who are at a much stronger and more experienced level than us.
The nerves began to kick in as soon as walked onto the floor. We didn't perform as well as we'd like in the first event but with my partner, we decided to leave that behind us and focus on the straight final in the next event that was ahead of us.
Dancing alongside another couple from our club, also representing England, we felt more relaxed the second time round. Concentrating on dancing well when you've just had a poor round is difficult, but we were adamant not to let our earlier experience dampen our spirits.
It has certainly paid off. We achieved third place and were standing on the podium too! A proud moment – hopefully first of many – which I will cherish.
"Last year we came fourth, this year we made it onto the podium in third place. Next year, we will aim for either second or first place!" was what my partner said to me.
As it was Valentine's Day and Kedainiai has a small population, I think the whole city turned up to watch the evening competitions. The atmosphere was wonderful and we thoroughly enjoyed watching the WDSF competitors take to the floor.
The entertainment was great. A Lithuanian comedian and an opera singer performed for the audience. But the highlight, I must say, is the formation team. It was hypnotic watching eight couples move in sync to music. Watching them perform at such a high level and in complex choreography was a pleasure!
Looking back at the whole competition, it was completely new experience compared to last year: different couples, different results and a different atmosphere! We really enjoyed ourselves and look forward to taking on the next challenge!
Vanda Sigel and Andrei Nistor represented England in the class-level competition at Kėdainiai Open 2016. The two-day event was held in Lithuania on 13-14 February.