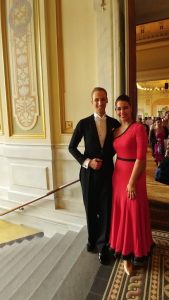 July is a special time for us. While most people wind down for their summer holidays, we ramp up our training for the Wuppertal DanceComp.
This year was our fourth visit to Wuppertal. We took a short flight from London to Düsseldorf and then a train journey. Our hotel was conveniently located just 10 minutes walk away from the venue.
The historical Stadthalle is a fitting venue for a Ballroom and Latin American dance event. Decorative, grand and complete with beautiful chandeliers, it takes your mind off the stress of a competition while you enjoy waltzing around the floor.
My partner and I are a ten dance couple, which means we compete in both styles of Latin American and Standard. This year, we competed in a number of class level ranking events, as well as the WDSF World Open Standard competition.
This was our second attempt at WDSF level, following our debut at the Kedainiai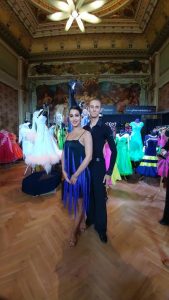 Open in Lithuania earlier in February. Stepping onto the floor with much stronger, world ranking couples was a little daunting to begin with but we soon eased into it during our warm up.
It was great opportunity to step up beyond our current ability. There is simply no quicker way to improve our dancing then to take a leap of faith and just go for it!
We are excited about continuing with these weekend competitions abroad and have already started looking on the WDSF calendar for other events to take part in.
Anastasia Fokina and Alexander Borisov represented England in the class level and WDSF competitions at Wuppertal DanceComp 2016. The three-day event was held in Germany on 1-3 July.