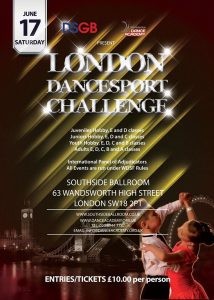 Southside Ballroom will play host to the London DanceSport Challenge Cup on 17th June.
This is a special opportunity for UK dancers to compete against international couples in a number of class-based events in Standard (Ballroom) and Latin American dancing.
Entry categories include:
Juveniles Hobby, E and D classes
Juniors Hobby, E, D and C classes
Youth Hobby, E, D, C and B classes
Adults Hobby, E, D, C, B and A classes
The event will be judged by an international panel of adjudicators.
For more information, contact the organisations at Wimbledon Dance Academy on info@danceacademy.org.uk